Preserving Idaho's Treasures:
Backcountry Airstrips & Small Community Airports
The Idaho Aviation Foundation benefits general aviation in Idaho by supporting initiatives and projects designed to maintain, upgrade and develop airstrips, improve access, and promote safety at backcountry and recreational airports. Although IAF projects and grants primarily benefit general aviation users, many non-aviation outdoor enthusiasts also reap benefits from these efforts.
What's Ahead in 2020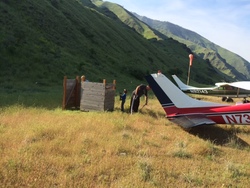 Airport Maintenance Work Parties
These will be in conjunction with the Idaho Aviation Association (IAA). Check the IAA calendar for upcoming work parties and aviation events.
New Webcams!
Meadow Creek Summit will have four cameras giving a 360 degree view of the area, and a weather station. It's located west of Indian Creek and east of Johnson Creek at approximately 8400 feet. This installation will give a fantastic view of the central Idaho mountains from any direction.
Featured Airstrip
The Root Ranch!
This is a secret in-holding jewel in the Frank Church Wilderness located between Chamberlin airstrip and Cold Meadows. The elevation is 5600 feet (Watch density altitude!) and the length is 2100 feet. Generally, land to the north, but watch the windsocks that are on the east side of the airstrip – one on each end.
Here is a map of the location;
https://flyingresortranches.com/ranch-locations/
Here is a video of the landing;
https://youtu.be/fxHalbjdPKI
Here are the active webcams;
https://flyingresortranches.com/live-webcam/
While this is a private strip, there is no charge for landing and usually with prior notification a great breakfast and/or lunch is available – just let the office know by calling (208) 756-6295.
Big Creek Lodge 2020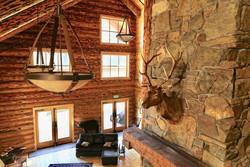 You Built It, Now Use It!
Webcam Looking North: https://www.eye-n-sky.com/webcam/BigCreek/BigCreek-North.jpg
Webcam Looking Southeast: https://www.eye-n-sky.com/webcam/BigCreek/BigCreek-SE.jpg
Opening Date is May 22, 2020.
LODGE ROOMS are $235/room/night. Maximum occupancy per room: 3 adults OR 2 adults and 2 children (10 and under). Taxes & all government fees are additional.
INCLUDED AMENITIES
Private en suite bathroom with towels and toiletries Personal room heater Up to 2 breakfasts/room/day Non-alcoholic/non-carbonated beverages Mountain bike use Transportation to trailheads, fishing and more Big Creek Feats to explore the history and nature of this incredible place Wheelchair accessible and ADA compliant (first floor room) Electricity! (powered from our own onsite hydroelectric station)
MEALS
Please note that the lodge is closed for drop-in meals on Tuesdays, although Monday overnight guests will be served Tuesday breakfast if desired.
BREAKFAST: OPEN 7:30 AM TO 10:00 AM – $20/MEAL
No reservations required, but if you have a group of 6 or more, it would be nice if you could drop us a line in advance at managers@bigcreeklodgeidaho.com.
LUNCH: OPEN 11:30 TO 1 PM – $20/MEAL
Reservations required 48 hours in advance. Inquire for reservations to managers@bigcreeklodgeidaho.com.
DINNER: OPEN 5:30 PM TO 7 PM – $25-35/MEAL
Each dinner is specially planned for a limited number of guests, so reservations are required 48 hours in advance, and the Innkeeper/Cook will confirm if they can accommodate your request, and provide a sitting time for your reservation. Email managers@bigcreeklodgeidaho.com
DRINKS: A RANGE OF BEER, WINE & OTHER BEVERAGES ARE ON THE MENU. Big Creek Lodge asks that guests refrain from bringing their own alcohol into the common areas of the lodge.
30th Annual Wilderness Within Reach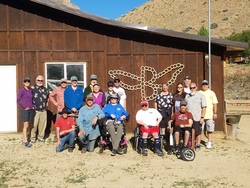 The Wilderness Within Reach (WWR) program celebrated its 30th anniversary with a flying expedition to the Flying B Ranch on the Middle Fork of the Salmon River July 9–11. The group consisted of 13 individuals, including Sonya Bucholz from the AdVenture program at Boise City Parks and Recreation. This year we had four individuals in wheelchairs which presented a challenge (getting them to the beach, which is about 100 yards from the main lodge). The staff at the lodge provided delicious meals and treated all with a lot of TLC. The wranglers put on an equestrian demonstration and had some of the more adventurous folks take a ride around the corral complex. Those who were able, had the opportunity to try their luck at fishing the river. Thank you so much to the Flying B crew!
Hosts from the sponsoring Idaho Aviation Foundation included Vic and Janine Jaro and Joe Corlett (instigator and manager of WWR since its' beginning). This year was organized by John Davis, who will take over the WWR program in future years. It has been quite a run for the program for the last 30 years. Aviation has been highlighted as a wonderful tool to allow access to Idaho's most remote areas for individuals who cannot easily reach those areas due to disabilities. It is my hope that the program will continue in perpetuity
This activity would not have been possible over the years without the generosity of the pilots and other folks who have contributed to the success of WWR. Our sincere thanks go to the many air taxi operators who have continually given their support and donated the seats for these trips. These operators include SP Aircraft, McCall Aviation/AvCenter, Arnold Aviation, and Sawtooth Flying Service. Historically, we have also had help from other commercial operators, including Salmon Air Taxi, Conyan Aviation, George Dorris, and Barry Bryant. Words cannot express how much these people are appreciated. This year Jamie Boesiger flew her own C-206 into the Flying B to help with the heavy lifting for the departure. She also piloted the SP Aircraft into the ranch for the guests' arrival. This year we dedicated the event to the memory of Tom Boyer, who was an ardent supporter of the program for over 20 years. He will be truly missed going forward.
Joe Corlett: "I also want to thank the IAF for letting me carry the ball for so many years. It has been one of the most rewarding experiences in my life to have had the privilege of sharing my love of aviation for the last three decades with those who are typically unable to be so fortunate. My best wishes go to John Davis who is so capable that he made this year's outing go seamlessly. He will be an excellent leader for the future."
2019 Big Tires and Campfires Raffle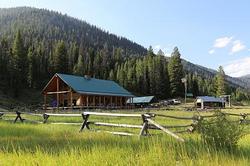 The raffle was held on June 15th and was sponsored by the Idaho Aviation Foundation (IAF), a non-profit organization. All net raffle proceeds are donated to organizations that preserve, protect, and maintain backcountry aviation. In 2019 net proceeds were over $12,500.