Preserving Idaho's Treasures:
Backcountry Airstrips & Small Community Airports
The Idaho Aviation Foundation benefits general aviation in Idaho by supporting initiatives and projects designed to maintain, upgrade and develop airstrips, improve access, and promote safety at backcountry and recreational airports. Although IAF projects and grants primarily benefit general aviation users, many non-aviation outdoor enthusiasts also reap benefits from these efforts.
Enter our Raffle to win an ADS-B Out System! - June 30, 2017
Win an ADS-B Out installation for your plane - or give it to a friend! You'll be helping support Big Creek Lodge at the same time. The system is valued at $4,695 and has been donated by Jackson Jet Center at KBOI. Prize includes:
Stratus ESG 1090 ES Transponder with built-in WAAS GPS
GPS antenna
Installation* ($1000 from Jackson Jet, $700 from IAF)
ADS-B "In" and other upgrades available
Applicable to most Part 23 aircraft
Tickets are $20 each and only 1000 tickets will be sold. Tickets will be available at many aviation events throughout the summer and online tickets are available - click on the link below . Drawing will be held in the Fall of 2017 (Date TBD). Prize is transferrable. Must be installed at Jackson Jet Center. Product information is available at appareo.com/stratus and raffle Terms and Conditions are here.
Click HERE to Buy Tickets
Learn why IAF is leading the effort to rebuild Big Creek Lodge with the USFS - February 5, 2017
2017 Big Creek Breakfast Dates Announced - February 1, 2017
As work continues in the very small construction time window at the lodge site, we will once again welcome the public to enjoy 'breakfast on the lawn' and tour the site and structures you have helped rebuild and restore! Breakfasts are $10/plate and include delicious pancakes, ham, eggs, coffee and juice. The events are early morning (8-10 am) to maximize the safety of flying guests arriving and departing in mountain conditions with potential wind. Profile Pass will likely not be navigable by car in late June; and we hope to add a date later in the season for the driving public!
Saturday June 17
Saturday June 24
Saturday August 5
A look back at 2016 accomplishments at Big Creek - January 20, 2017
We made significant progress at the lodge site in 2016, and continue to close in on completion. Take a look back at 2016 on our site specific to the Rebuild Big Creek Lodge project: http://www.rebuildbigcreek.com/index.php/news/77-big-creek-lodge-update.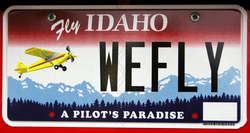 Aviation License Plate Program Saved - January 6, 2017
We did it! 1171 license plates were sold by December 31, 2017. This means that the program will continue for at least two more years. In order to continue to keep the plates in circulation there must be at least 1000 plates sold annually; if we drop below that limit for 2 years in a row we will lose the program. See more on our Projects page.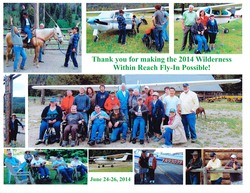 IAF continues support of Wilderness Within Reach every June - August 26, 2016
Every June for over a decade, IAF helps individuals with disabilities to enjoy a few days relishing a wilderness experience, using the assistance of back country aircraft to get them to and from a beautiful destination. In recent years, we have flown participants to Sulphur Creek Ranch.
The participants enjoy fantastic food and accommodations supplied by Kieri, Valdean, and their staff. Horseback riding and fishing are much enjoyed as well as the camaraderie of a group together in the wilderness. The IAF Wilderness Within Reach Program is a joint venture with the Boise City Parks and Recreation department AdVenture program, which provides year round activities for adults and youth with disabilities. Over the past twenty-five years Wilderness Within Reach has helped over 415 individuals with disabilities, who may never have been able to do so on their own, experience and appreciate the Idaho wilderness. For more information about Wilderness Within Reach contact Joe Corlett at 208-890-1819 or jcorlett@appraiseidaho.com. For more information on Sulphur Creek Ranch in the mountains of Idaho contact Kieri at 1-254-378-7473.


More Information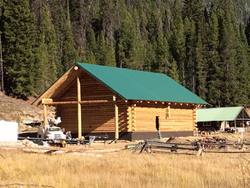 Big Creek Lodge Structure is Ready for Its' First Winter! - October 23, 2015
What an accomplishment! In October 2015 the building shell was completed. Thanks to our many donors and volunteers for making it happen! We need about $250,00 to complete the interior. If fund-raising continues successfully we plan to accomplish this by Fall of 2016. For more pictures and information on how to help us get it completed in 2016 go to the Rebuild Big Creek Website.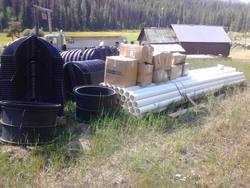 Big Creek Lodge Groundbreaking Ceremony - July 18, 2015
Work has already begun at the site with the installation of the septic system! The Ground Breaking Ceremony will be Saturday, July 18th at 8:30 a.m.; coffee and donuts will be available. Check our web cam for construction activity.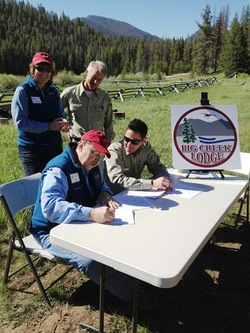 30 Year Special Use Permit Awarded to IAF by USFS for Rebuilding the Lodge at Big Creek - June 15, 2013
The Idaho Aviation Foundation cannot emphasize enough how supportive the USFS has been of the Lodge project. In fact, they have awarded the IAF a THIRTY YEAR Special Use Permit for ongoing operations at Big Creek. This is HUGE! We previously announced a 20 year permit—but they went to bat internally for this project and added another 10 years to the permit. At the Big Creek Breakfast event on the 15th, a ceremonial signing of the Special Use Permit by the Forest Service (Anthony Botello (seated) and Clem Pope from the Payette National Forest/Krassel District) and Idaho Aviation Foundation representatives (President Jim Davies (seated) and Vice President Colleen Back). After the signing, the US Flag was raised on the Lodge Site for the first time since 2008. See more about the project on our Current Projects Page.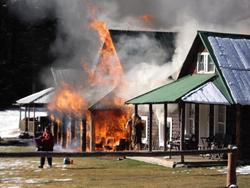 Big Creek Goes up in Flames - October 23, 2008
Photo courtesy Walt Smith