Preserving Idaho's Treasures:
Backcountry Airstrips & Small Community Airports
The Idaho Aviation Foundation benefits general aviation in Idaho by supporting initiatives and projects designed to maintain, upgrade and develop airstrips, improve access, and promote safety at backcountry and recreational airports.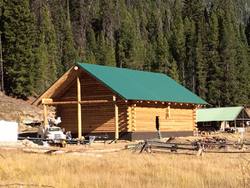 Big Creek Lodge Structure is Ready for Its' First Winter! - October 23, 2015
What an accomplishment! In October 2015 the building shell was completed. Thanks to our many donors and volunteers for making it happen! We need about $250,00 to complete the interior. If fund-raising continues successfully we plan to accomplish this by Fall of 2016. For more pictures and information on how to help us get it completed in 2016 go to the Rebuild Big Creek Website.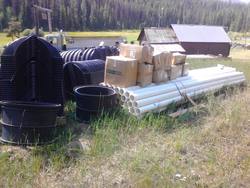 Big Creek Lodge Groundbreaking Ceremony - July 18, 2015
Work has already begun at the site with the installation of the septic system! The Ground Breaking Ceremony will be Saturday, July 18th at 8:30 a.m.; coffee and donuts will be available. Check our web cam for construction activity.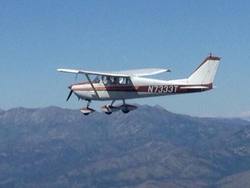 Win A Cessna 172! - July 1, 2015
You could win this airplane. Our latest fundraiser is an airplane raffle. For more information go to our Rebuild Big Creek website.
Big Creek (U60) 2015 Breakfast Dates Announced - April 14, 2015
It's that time of year again: to plan for all the wonderful Idaho fly-in breakfasts you can go to. Dates for the Big Creek Lodge fundraiser breakfasts have been chosen for the 2015 season and are as follows: June 20 (8-10 am) June 27 (8-10 am) August 1 (8-10 am) See the Rebuild Big Creek Website for more information.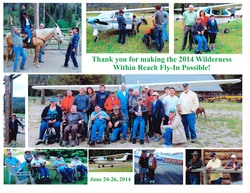 2014 Wilderness Within Reach - August 26, 2014
On June 25th and 26th the IAF helped six people with physical disabilities enjoy the wilderness at Sulphur Creek Ranch. The participants enjoyed fantastic food and accommodations supplied by Kieri, Valdean, and their staff. Horseback riding and fishing were much enjoyed as well as the camaraderie of a group together in the wilderness. The IAF Wilderness Within Reach Program is a joint venture with the Boise City Parks and Recreation department AdVenture program, which provides year round activities for adults and youth with disabilities. Over the past twenty-five years Wilderness Within Reach has helped over 400 individuals with disabilities, who may never have been able to do so on their own, experience and appreciate the Idaho wilderness. For more information about Wilderness Within Reach contact Joe Corlett at 208-890-1819 or jcorlett@appraiseidaho.com. For more information on Sulphur Creek Ranch in the mountains of Idaho contact Kieri at 1-254-378-7473.

More Information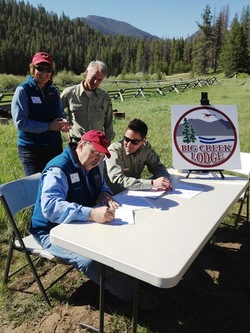 30 Year Special Use Permit Awarded to IAF by USFS for Rebuilding the Lodge at Big Creek - June 15, 2013
The Idaho Aviation Foundation cannot emphasize enough how supportive the USFS has been of the Lodge project. In fact, they have awarded the IAF a THIRTY YEAR Special Use Permit for ongoing operations at Big Creek. This is HUGE! We previously announced a 20 year permitóbut they went to bat internally for this project and added another 10 years to the permit. At the Big Creek Breakfast event on the 15th, a ceremonial signing of the Special Use Permit by the Forest Service (Anthony Botello (seated) and Clem Pope from the Payette National Forest/Krassel District) and Idaho Aviation Foundation representatives (President Jim Davies (seated) and Vice President Colleen Back). After the signing, the US Flag was raised on the Lodge Site for the first time since 2008. See more about the project on our Current Projects Page.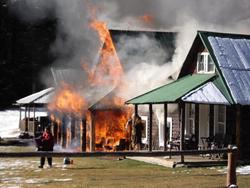 Big Creek Goes up in Flames - October 23, 2008
Photo courtesy Walt Smith