The Idaho Aviation Foundation benefits general aviation in Idaho by supporting initiatives and projects designed to maintain, upgrade and develop airstrips, improve access, and promote safety at backcountry and recreational airports.
August 23rd Breakfast & Wilderness Celebration at Big Creek - August 13, 2014
Aug 23 Breakfast & Wilderness Celebration On Aug 23 from 8-10 am, the Breakfast Event at Big Creek will be a very special one. The Payette National Forest (USFS) will kick off their Celebration of Wilderness with our breakfast event. After breakfast, you can enjoy some music, and talk with Earl Dodds, long time ranger from the 50s-80s; plus see wilderness tools and a pack string demo. It has been 50 years since the Wilderness Act was created. Here is information from the Payette National Forest who is putting on the program after breakfast:

More Information
Mark your calendars, IAF has announced the 2014 Big Creek Breakfast Events! - April 11, 2014
2014 BREAKFAST EVENTS HAVE A FEW TWISTS...See the details on the Rebuild Big Creek Event Calendar Here are the 2014 breakfast dates: June 21 (8-10am) June 28 (8-10am) July 19 (8-10am) August 23 (8-10am) September 6 (9-11am)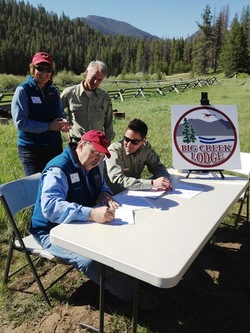 30 Year Special Use Permit Awarded to IAF by USFS for Rebuilding the Lodge at Big Creek - June 15, 2013
The Idaho Aviation Foundation cannot emphasize enough how supportive the USFS has been of the Lodge project. In fact, they have awarded the IAF a THIRTY YEAR Special Use Permit for ongoing operations at Big Creek. This is HUGE! We previously announced a 20 year permitóbut they went to bat internally for this project and added another 10 years to the permit. At the Big Creek Breakfast event on the 15th, a ceremonial signing of the Special Use Permit by the Forest Service (Anthony Botello (seated) and Clem Pope from the Payette National Forest/Krassel District) and Idaho Aviation Foundation representatives (President Jim Davies (seated) and Vice President Colleen Back). After the signing, the US Flag was raised on the Lodge Site for the first time since 2008. See more about the project on our Current Projects Page.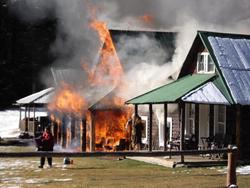 Big Creek Goes up in Flames - October 23, 2008
Photo courtesy Walt Smith