The Idaho Aviation Foundation benefits general aviation in Idaho by supporting initiatives and projects designed to maintain, upgrade and develop airstrips, improve access, and promote safety at backcountry and recreational airports.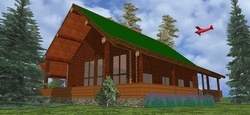 IAF Announces Plan to Rebuild Big Creek Lodge - February 1, 2013
Today the Idaho Aviation Foundation announced it's plan to rebuild Idaho's historic Big Creek Lodge www.rebuildbigcreek.com. For over 74 years the lodge provided meals and lodging to miners, geologists, loggers, sportsmen, horsemen, hikers, ATV/Snowmobilers, and pilots. Big Creek is special from an historic standpoint, but the mountain views, wildlife, and a rustic lodge on a beautiful state maintained airstrip made the Big Creek experience memorable. Sadly, it came to an end one late October morning in 2008, when a fire burned the lodge and adjacent cabin to the ground. Now, the Idaho Aviation Foundation is well on the road to rebuilding the lodge in 2014/2015 for public use. This project will be the IAF's premier enhancement to Idaho's backcountry aviation facilities in the coming few years, but we need help. If the Lodge has a special place in your heart - or if you would like to enjoy another place for meals and lodging in the backcountry - then we hope you will choose to get involved via donation and/or volunteerism. There are so many details and activities; you may wish to visit our dedicated website for this project: www.rebuildbigcreek.com.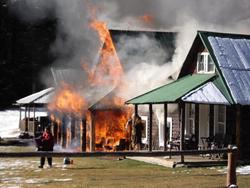 Big Creek Goes up in Flames - October 23, 2008
Photo courtesy Walt Smith